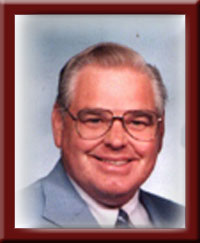 Milton Lee Godfrey III was born in Virginia on May 9, 1947. On December 21, 1969, he married Brenda Halstead. In time, the Lord blessed them with two sons—Douglas and David—and in more time with two daughters-in-law and four grandchildren!
Although he had attended church regularly while growing up, it was not until many years later—while a soldier in the United States Army—that Dr. Godfrey was saved. On March 17, 1969, while on leave from Germany and attending a Dr. Ron Comfort Revival Meeting at Great Hope Baptist Church in Chesapeake (VA), Dr. Godfrey was born into the family of God.
With a clear call into the Gospel ministry, Dr. Godfrey enrolled in Bible College in September, 1971. Dr. Godfrey completed the four-year program in three years and graduated from Atlantic Baptist Bible College in 1974. Dr. Godfrey received the degree Master of Religious Education from Victory Baptist Bible College (Hampton, VA) and the Doctor of Religious Education from Victory Baptist Bible Seminary (Hampton, VA).
After serving as Assistant Pastor to Dr. D.M. Hardison at Tidewater Baptist Temple (Chesapeake, VA) from 1972-1974, Dr. Godfrey was Founding Pastor of New Testament Baptist Temple (Arvonia, VA) where he served from 1974-1980. From 1980-1986, Dr. Godfrey was Pastor of Grace Baptist Church (Orange, VA), where he also conducted a Nursing Home Ministry and was Chaplain of the Orange County High School System, with involvement in sports, counseling, and ROTC.
In March, 1988, Dr. Godfrey joined the staff of Faith Baptist Church in Emporia (VA) where he was Associate Pastor to Rev. Melvin Prince until the Pastor's death in 1989. Following Pastor Prince's death, Dr. Godfrey was Pastor of the church as well as Principal of Faith Baptist Church School until 1993.
In 1993 Dr. Godfrey expanded his outreach in joining the staff of Victory Baptist Church in Hampton (VA), where he served as Associate Pastor to Dr. S. E. Hyde, as Administrator of Victory Baptist Church School, and as Dean of Victory Baptist Bible College—simultaneously!
In 1998, Dr. and Mrs. Godfrey moved to Lewisville (TX) where they both served at Corporate Headquarters for Accelerated Christian Education Ministries. Dr. Godfrey was Senior Customer Service Representative and served as Deacon at Central Baptist Church, Lewisville (TX) as well.
In 2001, following the accidental logging operation death of their son Doug, Dr. and Mrs. Godfrey relocated to Chesapeake (VA). In 2002, Dr. Godfrey joined the Pastoral Staff of Fairview Baptist Church, serving as Associate Pastor and Administrator of Fairview Baptist Christian Academy. Following the death of Pastor McClenney in November of 2004, Fairview Baptist Church called Dr. Godfrey to be the new Senior Pastor in January of 2005.